Master Investor 2018
Enter Webcast
This webcast requires registration.
Welcome:
Please select the session you wish to watch from the choices below. Once you click on the session button you will launch a registration page for each session.
Session 2

Session 3

Fidelity International: 'Investment strategies for a more challenging market'
13:30
Following a year of positive markets and low volatility, 2018 could provide a bumpier but still rewarding ride. That's bound to create a wealth of opportunity for smart investors. Tom Stevenson highlights the key themes that he expects to drive investment returns this year and suggests the best way for investors to profit from them.
Presenter: Tom Stevenson, Investment Director for Personal Investing, Fidelity International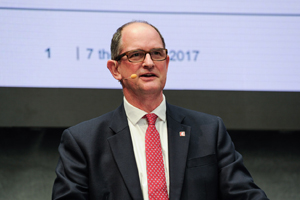 Session 5
QuotedData Panel Session: Investment Companies – why are they the largest and fastest growing sector in the stock market?
16:05pm
Led by QuotedData CEO Edward Marten, the panel will examine why Investment Companies are one of the fastest growing sectors in the stock market, but remain one of the least known. Informative, lively discussion is guaranteed, rounding the day off with a bang.